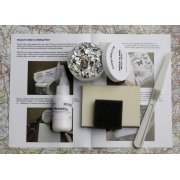 A5 Tuff Storage Box
FlitterGlu (50ml with Easy clean nozzle)
Phat Foam
Scoochy sponge
Easy peasy stamp cleaner
Palette Knife
1x Winter Dawn
Instruction Sheet
All you need to get started, in a box.
Everything you need to start producing fantastic effects using FlitterGlu and Mega Flake.
Simply choose your stamp and have some fun creating great cards and decorations.